Your Brain on Love, Sex and the Narcissist: The Addiction to Bonding with Our Abusers
By Shahida Arabi
Our brains can become masochists, seeking the very people that hurt them. The unpredictability of when we'll get our next "fix" of this elusive person creates stronger reward circuits, which leaves us wanting more and more. Unfortunately, the higher the emotional unavailability of a partner, the more exciting he appears to us – at least, to the reward center of our brains.
-Shahida Arabi
Many survivors of narcissistic abuse are confounded by the addiction they feel to the narcissist, long after the abusive relationship took a toll on their physical, mental, and emotional well-being. Make no mistake: recovery from an abusive relationship can be very similar to withdrawal from drug addiction due to the biochemical bonds we may develop with our toxic ex-partners.
Understanding why we are addicted permits us recognize that our addiction is not about the merits of the narcissist, but rather the nature and severity of the trauma we've experienced. It enables us to detach and move forward with powerful knowledge that can propel us towards greater agency and healthier relationships than the ones we've experienced in the past. In addition, it challenges the victim-blaming discourse in society that prevents many abuse survivors from gaining support and validation for the traumas they've experienced – validation that would actually help, not hinder, these survivors in leaving their abusive relationships.
Survivors struggle with No Contact and may suffer many relapses on the road to recovery from the psychological trauma of the relationship. Aside from the reasons I've proposed in this blog post on why abuse survivors stay in abusive relationships, I thought I'd explore how our own brain chemistry can lock us into this addiction to the narcissist or sociopathic partner. Some of these same biochemical bonds also make it difficult for us to detach from non-narcissistic partners as well.
1) Oxytocin.
This hormone, known famously as the "cuddle" or "love hormone," is released during touching, orgasm and sexual intercourse; it promotes attachment and trust. It is the same hormone released by the hypothalamus that enables bonding between mother and child. During "love-bombing" and mirroring in the idealization phases with our abusive partners, it's likely that our bond to them is quite strong as a result of this hormone. Intermittent reinforcement of positive behaviors dispersed throughout the abuse cycle (e.g. gifts, flowers, compliments, sex) ensures that we still release oxytocin even after experiencing incidents of abuse.
I've heard from many survivors who reminisce about the great sexual relationship they had with the narcissist, containing an electrifying sexual chemistry they feel unable to achieve with future partners. This is because charming emotional predators such as narcissists are able to mirror our deepest sexual and emotional desires, which leads to a strong sexual bond, which then, of course, releases oxytocin, and promotes even more trust and attachment. Meanwhile, the narcissist, who is usually devoid of empathy and does not form these types of close attachments, is able to move onto his or her next source of supply without much thought or remorse. The addictive nature of oxytocin is also gendered according to Susan Kuchinskas, author of the book, The Chemistry of Connection: How the Oxytocin Response Can Help You Find Trust, Intimacy and Love. The unfortunate fact is that estrogen promotes the effects of oxytocin bonding whereas testosterone discourages it. This makes it more difficult for females in any type of relationship to detach from the bond as quickly as men.
2) Dopamine.
The same neurotransmitter that is responsible for cocaine addiction is the same one responsible for addiction to dangerous romantic partners. According to Harvard Health, both drugs and intense, pleasurable memories trigger dopamine and create reward circuits in the brain, essentially telling the brain to "do it again." Do you remember recalling the pleasurable, beautiful first moments with your narcissistic partner? The romantic dates, the sweet compliments and praise, the incredible sex – long after you two had broken up? Yeah – it's releasing the dopamine in your brain that's telling you to "do it again." The salience theory of dopamine suggests that our brain releases dopamine not just for pleasurable events but to important ones that are linked to survival. As Samantha Smithstein, Psy.d, puts it:
Dopamine is not just a messenger that dictates what feels good; it is also tells the brain what is important and what to pay attention to in order to survive. And the more powerful the experience is, the stronger the message is to the brain to repeat the activity for survival.
Abuse survivors are unfortunately hijacked by dopamine. Abusive tactics like intermittent reinforcement works well with our dopamine system, because studies show that dopamine flows more readily when the rewards are given out on unpredictable schedule rather than predictably after conditioned cues. So the random sweet nothings whispered to us after an incident of emotional abuse, the apologies, the pity ploys, the rare displays of tenderness during the devaluation phase, right before another incident of abuse – actually help cement this type of reward circuit rather than deter it.
Combine this with powerful experiences of abuse which alert our brain to "pay attention" as well as pleasurable memories we recollect over and over again – and we've got ourselves a biochemical bond from hell.
3) Cortisol, Adrenaline and Norepinephrine.
Cortisol is a stress hormone, and boy, does it get released during the traumatic highs and lows of an abusive relationship. It is released by the adrenal glands in response to fear as part of the "fight or flight" mechanism. Since we are unlikely to have a physical outlet of release when cortisol is triggered during cycles of emotional abuse, this often traps the stress within our bodies instead. As we ruminate over incidents of abuse, increased levels of cortisol lead to more and more health problems. Christopher Bergland suggests numerous ways to counteract the effects of this hormone, which include physical activity, mindfulness, meditation, laughter, music and social connectivity. Adrenaline and norepinephrine also prepare our body for the flight or fight response, and are also culprits in biochemical reactions to our abusers. Adrenaline promotes an antidepressant effect, triggering fear and anxiety which then releases dopamine – this can cause us to become "adrenaline junkies," addicted to the rush of vacillating between bonding and betrayal. During No Contact, withdrawal from that "rush" can be incredibly painful.
4) Trauma bonding.
All of these jolts of fear and anxiety in the face of danger can reenact past traumas and create trauma bonding. Trauma bonding occurs after intense, emotional experiences with our abusers and tethers us to them, creating subconscious patterns of attachment that are very difficult to detach from. It is part of the phenomenon known as Stockholm Syndrome, in which victims of hostage become attached to their perpetrators and even defend their captors.
Although survivors of narcissistic abuse come from many different backgrounds and anyone can be a victim of narcissistic abuse, trauma bonding is even more significant for those who grow up in violent or emotionally abusive homes, and/or have had a narcissistic parent in addition to their most recent experiences with trauma and abuse. Survivors of multiple incidents of abuse by various narcissistic individuals can further reinforce subconscious wounds they experienced in childhood in the trauma bond with their current abusers.
If there has been victimization in the past, such as the experience of having to survive in an abusive household, this can lead to trauma repetition or reenactment, the root of which Gary Reece, Ph.D in his article, "The Trauma Bond," calls "relational trauma":
The key to understanding behavior found in abusive relationships is to look at the very early years of childhood. Relational trauma is at the root…There are several features these kinds of relationships have in common. The first is, they are deeply ambivalent, reflective of the Trauma Bond: fear, dependency, need, fear of abandonment, despair, the realization of helplessness, and rage. This is an amalgam of very powerful emotions which drive and make the relationship so unstable…The second feature of this kind of relationship is that it is a compulsive reenactment. Allan Schore, an attachment expert put it this way. "A further complication of unresolved trauma is narrative reenactment of the trauma wherein the victim unconsciously recreates the original traumatic event over and over.


Handbook for Treatment of Attachment Trauma, pg. 35.
It is important to understand the various types of biochemical and psychological bonds that often create attachments between abusers and their victims. Better understanding these bonds enables us to move past victim-blaming and move forward into greater understanding, compassion and support for survivors who struggle with leaving abusive relationships. We must not judge but continue to empower ourselves and others with this newfound knowledge.
https://selfcarehaven.wordpress.com/2015/04/27/your-brain-on-love-and-the-narcissist-the-addiction-to-bonding-with-our-abusers/
Narcissistic Abuse Can Cause Brain Damage
The effects of psychological and narcissistic abuse come with many devastating consequences, but there are two that almost no one knows about–unless they're a doctor or neuroscientist.
In fact, these two outcomes may be the most destructive result of emotional trauma over the long-term and is an added reason why–if you have children with a narcissistic partner–you should try to leave as soon as reasonably possible.
By now, most of us know that repeated emotional trauma leads to both PTSD and C-PTSD, which should be reason enough to leave an abusive partner.
But, what many people don't realize is that over time, these repeated emotional injuries shrink the hippocampus, which is responsible for memory and learning, while enlarging the amygdala, which houses primitive emotions such as fear, grief, guilt, envy, and shame.
Hippocampus basics
The hippocampus, which is Greek for "seahorse," is a paired structure tucked inside each temporal lobe and shaped, in fact, like a pair of seahorses. It helps to store and release memory. The hippocampus is especially vital to short-term memory, the retaining in mind of a piece of data for a few moments, after which it either gets transferred to permanent memory or is immediately forgotten. Learning depends on short-term memory.
Further, among the many analyses that have been conducted, one in particular shows very disturbing results. In a study conducted by a team of the University of New Orleans and Stanford University researchers, patients with the highest baseline cortisol (a stress hormone) and greater number of PTSD symptoms had the greatest decreases in hippocampal volume over time.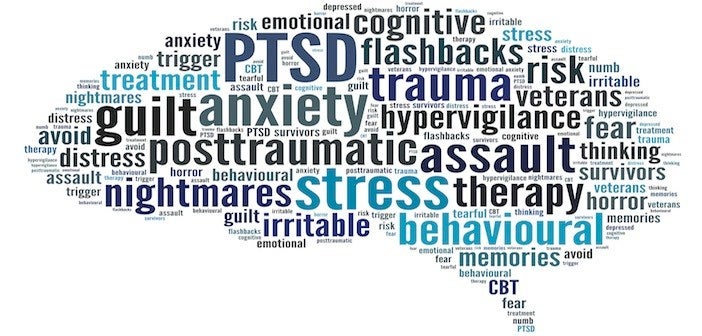 In other words, the longer you stay with an emotionally abusive partner, the more deterioration you can expect of your hippocampus. It can be easily understood how this neurological process may enhance feelings of confusion, cognitive dissonance, and abuse amnesia in victims of narcissistic and psychopathic abuse.
Amygdala basics
Narcissists keep their victims in a constant state of anxiety and fear, which in turn causes their victims to react from his or her amygdala (or "reptilian" brain). The amygdala controls life functions such as breathing and heart rate and the basic emotions of love, hate, fear, and lust (all of which are considered "primal emotions").
It's also responsible for the fight or flight reaction. Victims of narcissistic abuse live in this state almost daily. Over time, the amygdala remember the things we felt, saw, and heard each time we had a painful experience. Subliminal hints of such stressful events (even photos) will set off the organ's attack or escape routines–triggering avoiding behaviors or internal turmoil [3](another good reason to refrain from stalking your ex on social media).
Even after the toxic relationship has ended, victims suffer PTSD, C-PTSD, panic attacks, phobias, and more… due to the triggering of their primal fears by their overactive amygdala. Out of these fears, targets of narcissistic abuse often engage in primitive defense mechanisms including (but not limited to):
Denial – Victims use denial to escape dealing with painful feelings or areas of their life they don't want to admit.
Compartmentalization – Victims pigeonhole the abusive aspects of the relationship in order to focus on the positive aspects.
Projection – Victims project their traits of compassion, empathy, caring, and understanding onto their abuser, when in fact, narcissists and other emotional abusers possess none of those traits.
Narcissistic abuse changes your brain
According to Goleman (2006), everything we learn, everything we read, everything we do, everything we understand, and everything we experience counts on the hippocampus to function correctly.
The continual retention of memories demands a large amount of neuronal activity. In fact, the brain's production of new neurons and laying down connections to others takes place in the hippocampus.
The hippocampus is especially vulnerable to ongoing emotional distress, because of the damaging effects of cortisol.
When the body endures ongoing stress, cortisol affects the rate at which neurons are either added or subtracted from the hippocampus. This can have grave results on learning. When the neurons are attacked by cortisol, the hippocampus loses neurons and is reduced in size. In fact, duration of stress is almost as destructive as extreme stress. Goleman explained:
Cortisol stimulates the amygdala while it impairs the hippocampus, forcing our attention onto the emotions we feel, while restricting our ability to take in new information.
Goleman adds:
The neural highway for dysphoria runs from the amygdala to the right side of the prefrontal cortex. As this circuitry activates, our thoughts fixate on what has triggered the distress. And as we become preoccupied, say, with worry or resentment, our mental agility sputters. Likewise, when we are sad activity levels in the prefrontal cortex drop and we generate fewer thoughts. Extremes of anxiety and anger on the one hand and sadness on the other push brain activity beyond its zones of effectiveness.
But, there is hope. There are reparative activities you can do to restore and rebuild your hippocampus and stop the hijacking of your psyche by your amygdala.
What to do
Luckily, as brain scans have now shown (thanks to the magic of neuroplasticity), it is possible for the hippocampus to regrow. An effective method includes the use of EMDR therapy (Eye Movement Desensitization and Reprocessing). One recent study showed that 8 to 12 sessions of EMDR for patients with PTSD showed an average of a 6% increase in the volume of their hippocampi.
EMDR is also beneficial for counteracting the hyperarousal of the amygdala, allowing the brain to more appropriately direct what needs to happen rather than remain stuck and unnecessarily trigger problematic emotions. Other methods that have been shown to repair both the hippocampus and amygdala include:
Guided meditation – Recent studies from Harvard University show that daily meditation can help repair the brain by actually rebuilding the brain's gray matter. Study participants who spent an average of 27 minutes per day practicing "mindfulness" exercises showed a major increase in the density of the hippocampus and amygdala and associated reductions in stress, compared to a control group.
Aromatherapy and essential oils –Article: AROMATHERAPY AND MEDITATION: ESSENTIAL STEPS IN RECOVERING FROM NARCISSISTIC ABUSE
Performing acts of kindness – simple, daily practice of altruism can dramatically alter your outlook on the world.
EFT (Emotional Freedom Technique) – helps correct the biochemical short-circuiting that occurs with chronic anxiety.
Of course, the first course of action would be to plan and implement an exit strategy. It takes time to recover from narcissistic abuse and one short encounter can set you back enormously.
https://blogs.psychcentral.com/liberation/2017/10/long-term-narcissistic-abuse-can-cause-brain-damage/
First song composed / performed by me.